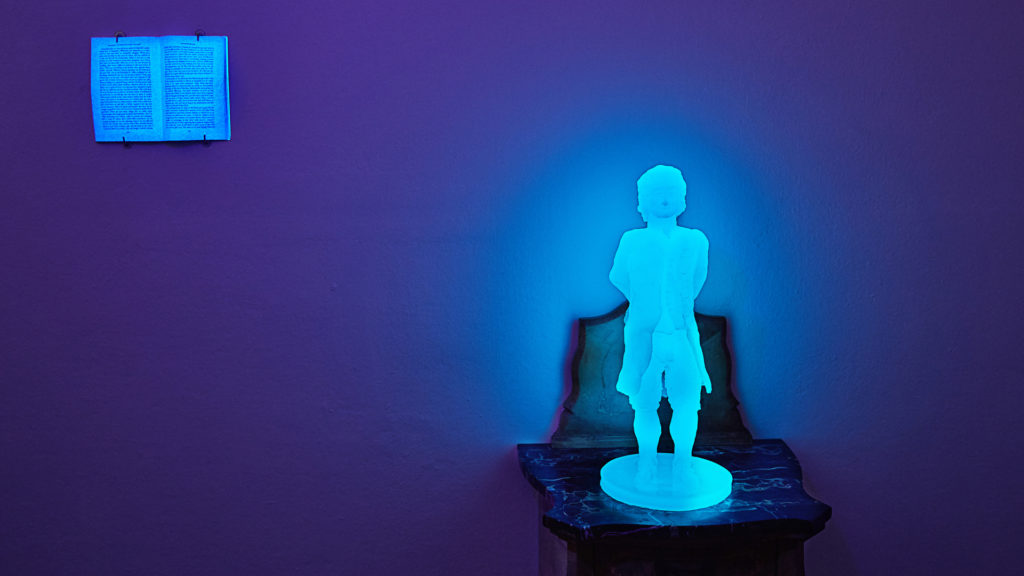 The newest The Independent's project – the museum's programme for independent arts – is made by the Il Colorificio, a curatorial collective and creative space based in Milan since 2016 and winner of i9 – Spazi indipendenti, the no-profit Italian award powered by ArtVerona.
The Il Colorificio's wall presents Flashing and flashing!: seven works, one for each artist featured – Daria Blum, Deniz Eroglu, Marco Giordano, IOCOSE, Tamara MacArthur, Vasilis Papageorgiou, Michele Rizzo – and all delimited within the space of a green screen. Using virtual reality's skills, the expositive wall expands extending the whole exhibit's surface.
photo: Deniz Eroglu, Glow-in-the-dark-Rousseau for Deniz Eroglu Phantasm, 2017 exhibit, Il Colorificio, Milano. Courtesy the artist and Il Colorificio. Ph. Filippo Gambuti.