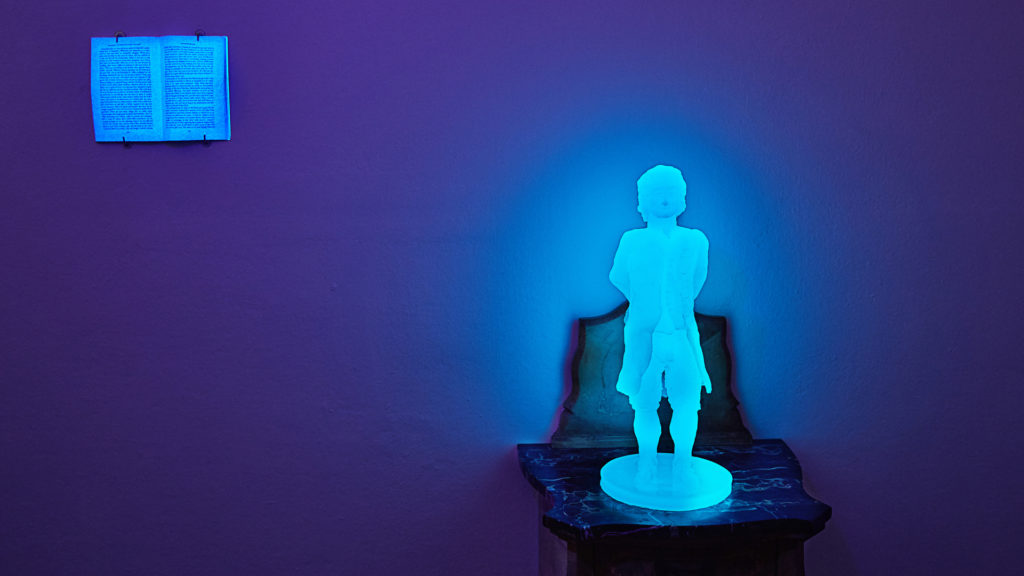 Il nuovo appuntamento di The Independent, il programma del museo dedicato alle pratiche indipendenti, ha per protagonista Il Colorificio, collettivo curatoriale e spazio attivo a Milano dal 2016, vincitore di i9 – Spazi indipendenti, l'iniziativa dedicata alle realtà non profit italiane promossa dalla fiera ArtVerona.
Sul wall dedicato al progetto Il Colorificio presenta Flashing and flashing!: sette opere, una per ciascuno degli artisti presentati nello spazio – Daria Blum, Deniz Eroglu, Marco Giordano, IOCOSE, Tamara MacArthur, Vasilis Papageorgiou e Michele Rizzo –, circoscritte all'interno di un green screen.
Sfruttando le possibilità virtuali, la parete espositiva si espande estendendo lo spazio della mostra.
foto: Deniz Eroglu, Glow-in-the-dark-Rousseau per la mostra Deniz Eroglu Phantasm, 2017, Il Colorificio, Milano. Courtesy l'Artista e Il Colorificio. Ph. Filippo Gambuti