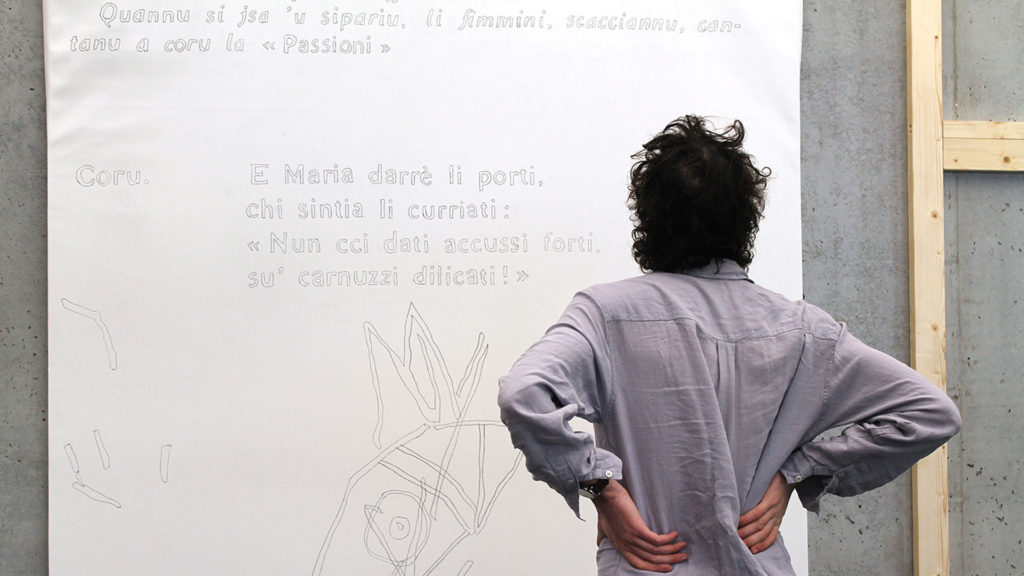 con Andrea Celeste La Forgia
There are no painters but only people who engage in painting among other activities
THE INDEPENDENT, il programma del MAXXI dedicato al pensiero e alla pratica indipendente, presenta il progetto speciale di Max Fletcher in collaborazione con Andrea Celeste La Forgia: «Non esistono pittori ma solo persone che si dedicano alla pittura fra altre attività». L'opera è il risultato di una performance concepita per il summit FRIENDSHIP | SOLIDARITY | ALLIANCES in occasione del quinquennale di THE INDEPENDENT.
Nell'ambito del Summit, l'artista britannico Max Fletcher – attualmente residente presso la British School a Roma – ha prodotto una serie di tre tele durante una complessa azione in cui parola, pittura, gesto si combinano in un ripensamento critico del passato come mezzo di edificazione di amicizia, solidarietà e alleanze. Pasolini costituisce il riferimento essenziale sia della performance sia delle tele, che riportano tre frammenti di testi teatrali dialettali tratti dallo stesso Pasolini e da due scrittori da lui amati, Pirandello e Bertolazzi.
I passi selezionati – tradotti in inglese – offrono una rappresentazione in chiave umoristica di momenti incentrati su un senso di comunità e solidarietà, nozioni che Pasolini attribuisce al dialetto, inteso gramscianamente come forma letteraria emancipatoria, capace di sovvertire o contrastare i concetti di progresso lineare e unificazione formale.
foto © Fondazione MAXXI