COLOSSALE PERFOMANCE Modica Street Musical – Il presente, il passato, il possibile
Giulia Ferracci
On 6th August 2016, Modica was the backdrop for an extraordinary event, one which would deserve coverage from all national television stations. Hundreds of people came, from all corners of the city, they flooded the streets, danced on tip toes along roads gently marked by time, brandished feathers, played the trumpet, recited poems, sang in choirs.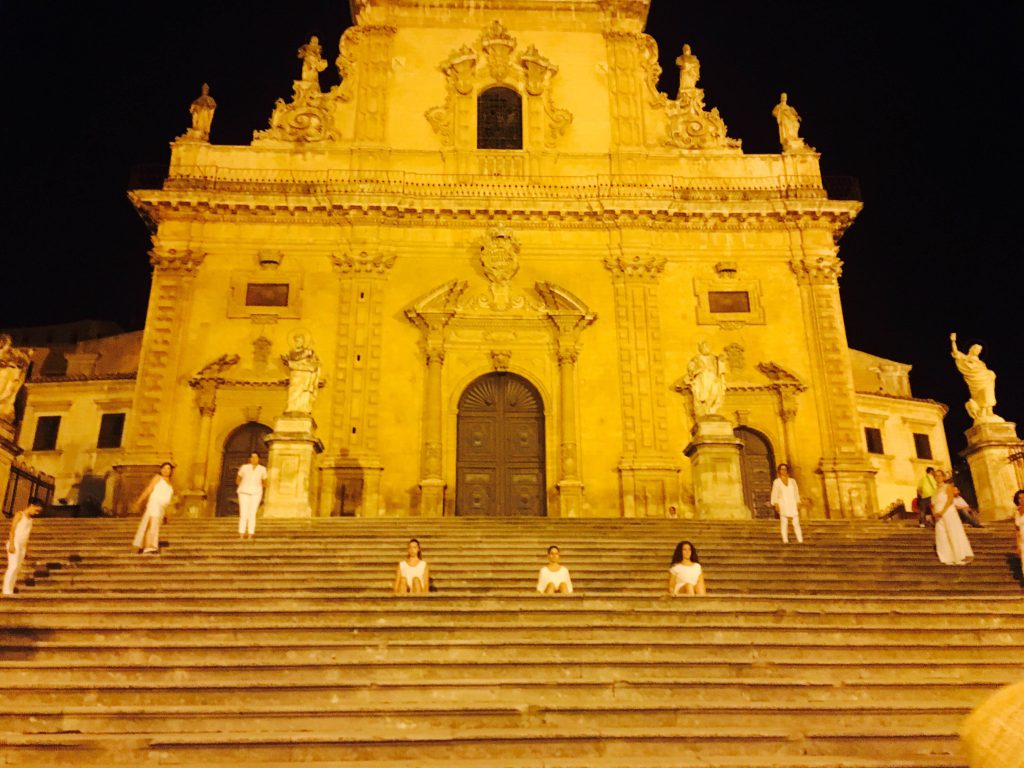 The event was a musical travelling around the city, created by Marinella Senatore, curated by Matteo Lucchetti and presented by Galleria La Veronica, which has now secured itself a place of honour in the contemporary Italian art scene.
Described as the result of the collective and formidable efforts of various local parties (well over thirty independent organisations and venues for theatre, dance and music), Modica Street Musical is a compendium of 'the present, the past and the possible', made up of two acts and an intermezzo, which took place in different locations across the city.
The various groups started at Upper Modica (Modica Alta), where there were performances that honoured the 'present': the local dance troupe, the school of twirling, bands and choral groups whose music had hints of everything from Vivaldi to Bob Marley, and Modica's academy of musicals with their versions of 'Sister Act' and 'Chicago'.
The second phase of the musical, structured more through narrative, from oral history to anarchic prose, from puppetry to sign language, was dedicated to the 'past'. The County of Modica, depicted by Leonardo Sciascia as a place fiercely resistant to the Mafia, was evoked through the stories of Turiddu Chiaramonti, Gesualdo Bufalino, anarchist Giuseppe Alticozzi, himself from Modica, and many others. In reality, all the protagonists of this act deserve to be remembered individually for their wide anthology of characters and roles; but here it is enough to highlight how each of their voices resounded behind the Duomo di San Giorgio, telling tales of a powerful land, with a history seeped in resistance, emigration, factory work and honour.
The musical culminated in a carnivalesque artificial snowfall, visually stunning, at times circus-like, in the centre of Lower Modica (Modica Bassa). The most cathartic moment of the whole event, the snow fell whilst the public, by now completely part of the show themselves, listened to its soundtrack. This soundtrack now echoes in Galleria la Veronica, alongside a series of collages, drawings and photographs produced between 2010 and today.
The music was written by Emiliano Branda and was based on sounds such as memories and historical anecdotes sent to him by local residents. Branda's music, together with Chiara Notarnicola operatic rendition of Pasolini's Canto popolare, transformed the musical into a magical and visionary performance, a huge party in which the 'possible', the hope for a better future, was brought back to life.
Modica Street Musical, foto documentarie del musical, Modica agosto 2016. Credits Giulia Ferracci