Gestures of love, or L'insurrection qui vient?
Hou Hanru
[…] Contemporary art is universally the product of intense negotiations between a true multi­tude of expressions, and it reflects a variety of singular interpretations of local contexts that are necessar­ily complex, improvisational, and open to continuous change. New institutional models are needed. The search for alternatives in Asia began more than a decade ago, when established art institutions revealed flaws in the prevailing system. A great number of self-organized, artist-run spaces were formed when the members of nascent contem­porary art communities—known for their emphasis on artistic and social experimentation—found that their activities could not be accommodated by traditional venues. The major museums in these areas (if they existed at all) have, for one reason or another, not been effective in responding to the vital transfor­mative impulse of these smaller, more innovative grassroots efforts. There are currently hundreds of new museums being created in China. But most of them have been trying to follow the established model of the mainstream international museums and overlooked the bottom-up dynamics of the art community. As a result, many artists collec­tively turned away from these institutions, founding independent spaces where they manifest their creative commitment by developing various strategies of occu­pation. These spaces quasi-systematically thrive on everyday life; they have to adapt rapidly and efficiently in the face of urban expansion and economic growth, processes that are often rife with the inherent ten­sions of attempting to envision a better future and the inevitable social conflicts that impede the possibility of positive change. Indeed, it is important to recognize that an almost tangible desire to be engaged socially and politically is the raison d'être for many artists in these countries to act as "contemporary" and "avant-garde" agents. To great extend, this tendency can be found in the Italian art scene today driven by the long tradition of self-organisation reacting to the lack of centralised cultural policy and structure.
Many such efforts could be compared to what Hakim Bey identified as a Temporary Autonomous Zone (TAZ)[1]. […]
Such zones of resis­tance open platforms for experimental, critical, and transgressive expression in the face of chaotic and increasingly oppressive social realities. They also bring about new visions of social organization that decon­struct and even destroy the established centrality of the institutional system, proposing new forms of social production based on a continuous renegotiation of relations between independent actions and institu­tions, between periphery and center, between a static boundary and open space. These spaces encourage a limitless approach to creation that puts productiv­ity and process at the very heart of the generation of culture. In other words, alternative models like TAZ present a fundamental challenge to the static insti­tutional systems that have dominated the production and display of art[2]. They compel us to redefine the concept of the contemporary in relation to social engagement, and they manifest the real singularities of artistic production in different regions at a time when contemporary art is proliferating in new cultural centers across the world[3].
excerpt from Gestures of love, or L'insurrection qui vient? in Six Lines of Flight: Shifting Geographies in Contemporary Art, exhibition's catalogue (San Francisco, San Francisco Museum of Modern Art), University of California Press, San Francisco, 2012, pp. 208-210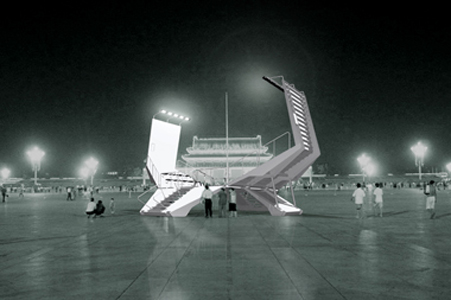 Notes
[1] Here I am referencing my essay "Initiatives, Alternatives: Notes in a Temporary and Raw State," in How Latitudes Become Forms: Art in a Global Age, edited by Philippe Vergne (Minneapolis, MN: Walker Art Center, 2003), 36–39, also available at http://latitudes.walkerart.org/images/text/hanru_latitudes.pdf.
[2] The rise of alternative organizational models in non-Western countries has become a key issue for more and more events and research with Gwangju Biennale 2002 and Guangzhou Triennial 2005 as important examples. This has begun to shape the ways Western museums position themselves internationally. One notable example is the "Museum as Hub" project that occupies the fifth floor of New York's New Museum. The Hub organizes collaborations among various museums and art spaces including Townhouse Gallery (Cairo), Insa Art Space/Arko Art Center (Seoul), Museo Tamayo (Mexico City), and Van Abbemuseum (Eindhoven). Since 2013, the MAXXI's program has included and emphasized on a core element – "The Independent".
[3] See note 1 above.